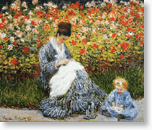 How To Submit Your Project



Submitting Your Image:

We accept slides, transparencies, photo prints, negatives and digital files. If you have another media that you would like to submit, please call us concerning acceptability.

We assume that digital files are correct and do not require any work to make them press ready. When you submit digital files you should submit color guides, Matchprints, or any other generally accepted color proofs. We will run our own Matchprints and check to make sure that our proofs closely match your supplied color guides.

If you are submitting images shot with a digital camera, please contact us in advance for instructions on how these images should be submitted.

If the image is to be cropped, please give us a general indication of where you would like the cropping. Most masterpieces are not cropped, but if a "detail" is approved the full un-cropped image is generally run on the back of the note card or postcard to show how the masterpiece appears in the frame. The images below illustrate cropped and un-cropped images as they were actually produced.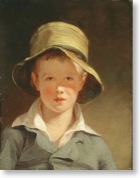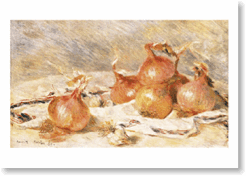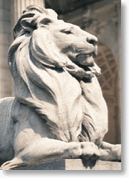 Un-cropped images float on the postcard or note card with a white border (or if you prefer, a colored border). We would normally run the image "high center" - - we center the image left and right, and position it high on the card as shown above. If you wish a different treatment, please let us know.

We scale the image so that it takes up the greatest amount of area on the face of the note card or postcard. Generally we would keep a minimum ¼" boarder on each side of the longest or widest dimension.

Please note any special work that you would like accomplished on the image. Should a piece of statuary be silhouetted? Should the image be reproduced with the frame, or should the frame be removed? Do you want the smoke detector removed from the dining room photo of your historic house? We can accomplish most any special photo retouching required.

Submitting Copy:

The copy for your prints, note cards or postcards can be submitted in several ways - - you can jot it down with pen and paper if you wish. To avoid typos, we would prefer that you send us copy either by e-mail or in a Microsoft Word or similar word processing file.

Include any additional items that you would like on your reproduction. Logos should be in an electronic format for best duplication, or we can scan your logo if you provide black and white copy. If you use barcodes, you should send an electronic version (preferred), a black and white repro for scanning, or the barcode number so that we can create the barcode with our software.

A mockup of how you would like the type to appear is always helpful. If you have note cards or postcards that you've printed before, or if you have a sample of someone else's product that you'd like to match – send it along.

The production of custom products such as boxed note card assortments, and prints, requires a bit of time on the phone to get us moving in the right design direction. This creative process is painless and easily accomplished - we custom design stunning products with a minimum of customer direction. If you would like to get started on a one-of-a-kind product, give us a call to discuss the possibilities.

If you will be supplying computer ready art for the type and layout of any of your products, please call us in advance for software and layout specifications.

Proofs:

We will usually be able to supply color and page proofs to you within a week of receiving your original materials. Promptly returning proofs will ensure timely completion of your project.

You should assume that the color proof is an excellent representation of how your finished image will look. Be sure to advise us of any corrections to be made to the proof so that we can provide a corrected proof. Anything in the proof that you do not specifically ask us to change will exist on the finished product. A good rule of thumb is to comment on every area of concern, and circle any glitch, that you would like us to investigate. We will make corrections and provide new proofs until you are completely satisfied with the result. Ninety percent of our proofs are approved on the first round.

PDF proofs are provided on all text. These lasers should be proofed carefully by more than one set of eyes. Once the final proof is approved by the customer, any errors from that proof remaining in the finished product are the responsibility of the customer. Again, we will provide as many proofs as you need to ensure that the wording and layout of your project is correct.

After you have approved color proofs and PDF text proofs, we will provide a final high-resolution proof that will show you the exact placement of your image and the layout of your text. This final proof is provided to ensure that the product is exactly what you expect. The approval of this proof is the last step before we apply ink to paper and deliver the completed job.

Special Notes:

We are always available to answer questions during the production of your materials. It's important to us that you have all of your questions answered promptly and professionally. You are never an interruption of our work - you are the reason for it! We encourage you to call whenever a question or concern presents itself.

We guarantee our work. If the product does not conform to the proofs, if it is not uniformly excellent, or if it is damaged in any way, we will promptly remake your order. We are ever mindful that the success of our organization is not measured in customer satisfaction, but in customer delight!

Follow us on Facebook